Skitag support and FAQ
FAQ
What is SKITAG SUMMER CAMP?
The aim of this program is to continue training algorithms, testing Skitag IMU device BLE communication and testing the Skitag IMU device fixing system under severe conditions (i.e. Sea). The summer of 2019 will be focused on the evaluation of the User Experience with the Apple Watch Apps and the development of the Biketag

and Surftag

Apps.
What is Skitag Trainer?
Skitag Trainer is an App that only saves your Skitag IMU device data (accelerometer and gyroscope) + Apple Watch GPS location + accelerometer + gyroscope or your iPhone GPS location while you are Skiing or while you are Surfing.
We made it this way to reduce your Skitag, Surftag and Biketag App memory usage. So, if you want to record your Skitag, Surftag or Biketag data and send it back to us to get a customised algorithm, this is the way to do it.
Download Skitag Trainer. Turn your iOS or WatchOS App. Press Start to start recording. Your GPS will start recording data. Shake your Skitag IMU evice to turn it on. Now, your Skitag IMU device is also being recorded. Do your favorite sport and Stop when you have finished.
Share your data to Skitag to get a customised algorithm. That's it. Enjoy it and train as much as you can!
What is Skitag?
Skitag is an App+IMU device

+GPS bundle user experience, i.e. to feel the complete experience of Skitag you'll need a smartphone with the Skitag App installed, access to the GPS and the IMU device

paired to your smartphone working all together.
Because the Skitag IMU device

is yet a prototype we also trained our algorithm to process your smartphone GPS location information. Therefore, even if you don't have the Skitag IMU device

, by downloading the Skitag App from Apple Store or Google Play you will have overall information about your ski downhills, like chrono, distance, elevation and speed.
What is Surftag?
Surftag is a spin off project of Skitag inspired and mentored by our new partner Trinity Board Technologies. This App is also designed to test the algorithms, improve the Skitag IMU device

functioning under extreme conditions and to extend the User Experience to Smart Watches. So far, you don't need a Skitag IMU device

to enjoy the Surftag experience. Nevertheless, soon we'll come up with new algorithms to detect surf movements like Cutback, Re-entry or Snap that will need the Skitag IMU device

fixed to your surf board to get better accuracy.
Can I use the Surftag App without an Apple Watch?
You need to wear an Apple Watch to feel the Surftag experience because the Apple Watch feeds the algorithm inside Surftag App with its GPS and IMU data.
Can I use the Surftag App without the Skitag IMU device?
Yes, you can. So far, the Surftag App uses the Apple Watch GPS location system and the Apple Watch IMU sensor to detects waves, positioning manouvers and paddling.
How does Surftag App works?
First, you need to wear an Apple Watch. Turn your Surftag App and press the Start button to start recording your surf data. While you are surfing you will see a stopwatch, a waves and attempts counter, and the paddling and distance meters in the water. To stop recording swipe to the bottom of your Apple Watch screen and press the Stop button. A screen will show your Surftag Session summary. Then, open your iOS App and sync your Apple Watch data. Go to Activity Screen and choose your Surf Session. You'll see your waves plotted in a map and you'll also see your overall Surftag data.
How do I pair my Skitag IMU device?
First, download the Skitag App from the App Store or Google Play. Turn on the App. Make sure your bluetooth is on and visible to pair with another device. Make sure you allow Skitag App to access your GPS location. Navigate to the Record

screen. Then, turn on the Skitag IMU device

pressing the button at least twice. You'll see a one second red light blinking in one corner of the skitag device (Note: it only blinks when you press the button). If everything is right you'll see a message in the record your skitag app's screen that displays: skitag device connected. That's it. The skitag device is paired with your smartphone. You can now record your Skitag.
go to skitag device
pairing/fixing tutorial
Can I use the Skitag App without the Skitag IMU device?
Yes, you can. The Skitag App also uses the GPS location system of your smartphone to cluster your downhills and measure your distance, elevation and speed.
Does the Skitag App has artificial intelligence?
Yes, it has one deep neural network and one recurrent neural network to classify, predict and group your Skitag IMU device

and GPS data.
What data does Skitag App shows?
In the Downhills

screen you'll see each one of your Downhills recorded.
The first line (Skitag IMU device icon

) shows you information about your ski style

and your ski balance

. If you don't have the Skitag IMU device

this will be empty.
Then you'll find the information obtained from your smartphone GPS

. You'll have the downhill's chrono

, distance

, elevation

, speed

and maximum speed

. You'll also have a plot of your downhill elevation profile.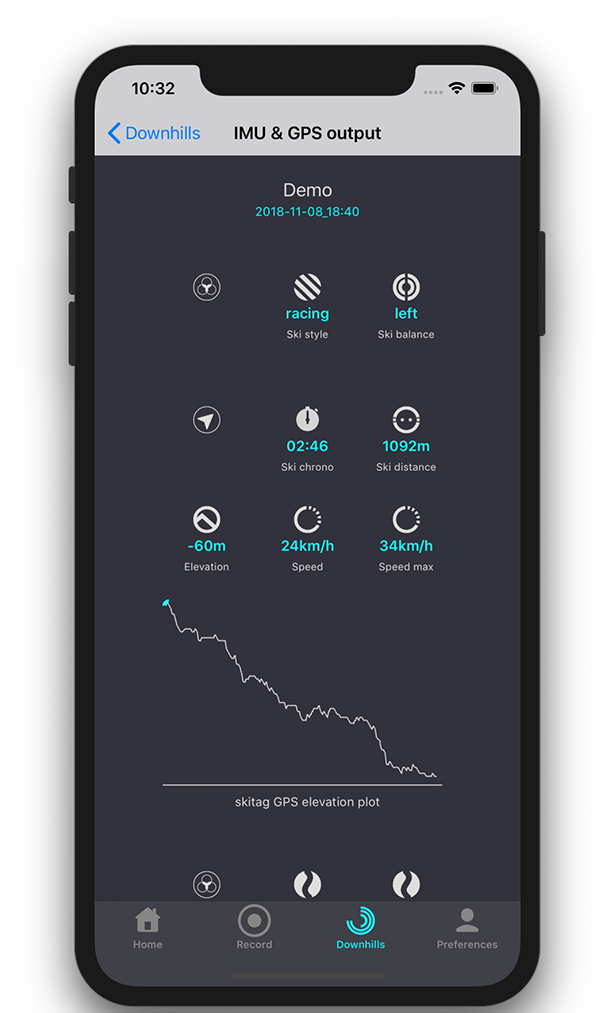 Going down the Skitag GPS elevation plot you'll find additional data supplied by the Skitag IMU device

.
You'll have your Carving path

(Left and Right), your Carving Seed

(Left and Right), your Carving Shape (Long and Short) and your curve counters

(Left and Right). Unfortunately, if you don't have the Skitag IMU device

these also will be empty.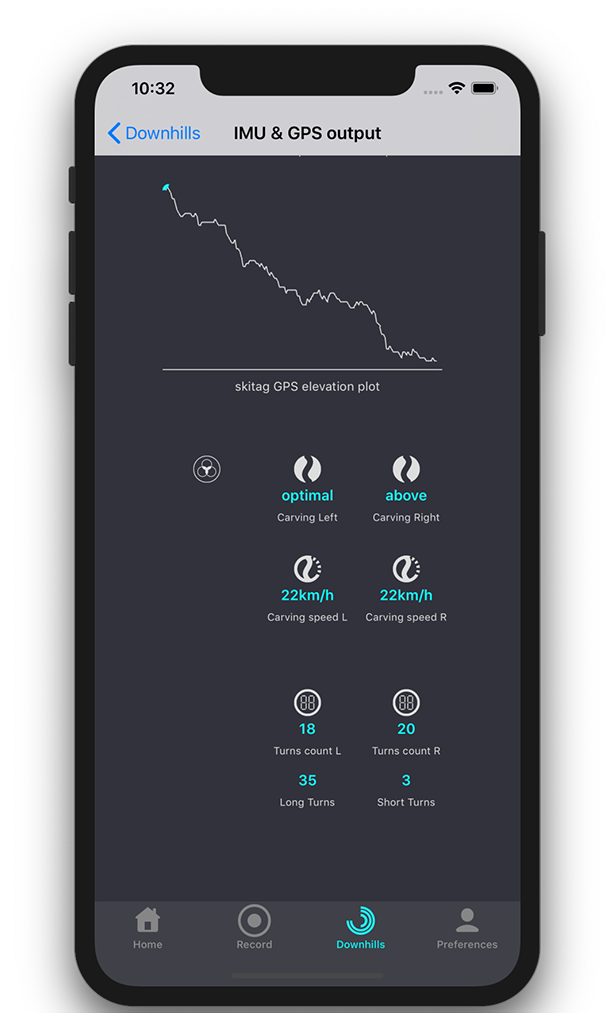 What's an optimal curve path?
It's difficult to come up with a standard optimal ski curve definition. Most of skiers will agree that an optimal ski curve depends on the ski boards, on the track inclination, the ski velocity and many more conditions; i.e. equipment, snow, track, skier's weight.
Some suggest to pre-parametrise the algorithm with this kind of information; i.e. snow conditions and/or ski board specifications. Nevertheless that decision would mean to move away from the essence of artificial intelligence; i.e. find patterns from raw complex nonlinear data.
In that sense we found that most skiers may also agree that an evidence of an optimal curve is when it feels that the ski board traces a perfect curve without drifting. It feels smooth, they say. Therefore we thought that an ellipse could be a good standard for an optimal curve path while you are skiing.
Skitag gets every ski curve optimal path replacing the ellipse formula parameters with the ski curve timestamp events and the maximum tilt during the ski curve. Respectively the semi-major and semi-minor axis depending on the shape of the curve (long or short curve).
Only the skiers experience with Skitag App, Skitag IMU device

and the results of the skitagCI initiative will tell us if this approach is a good one or if we need some other kind of approach like offering an App with a training configuration so the skiers collectively trace and classify ski curves events.
Yes! Certainly this could be a very interesting project for the future; i.e. let the anonymous interactions of skiers to draw the optimal ski or snowboard curve paths. Interesting...
What data does Surftag App shows?
A Surftag Session will show you the number of waves surfed, the average speed (km/h) while surfing a wave and the time and distance (meters) surfing a wave.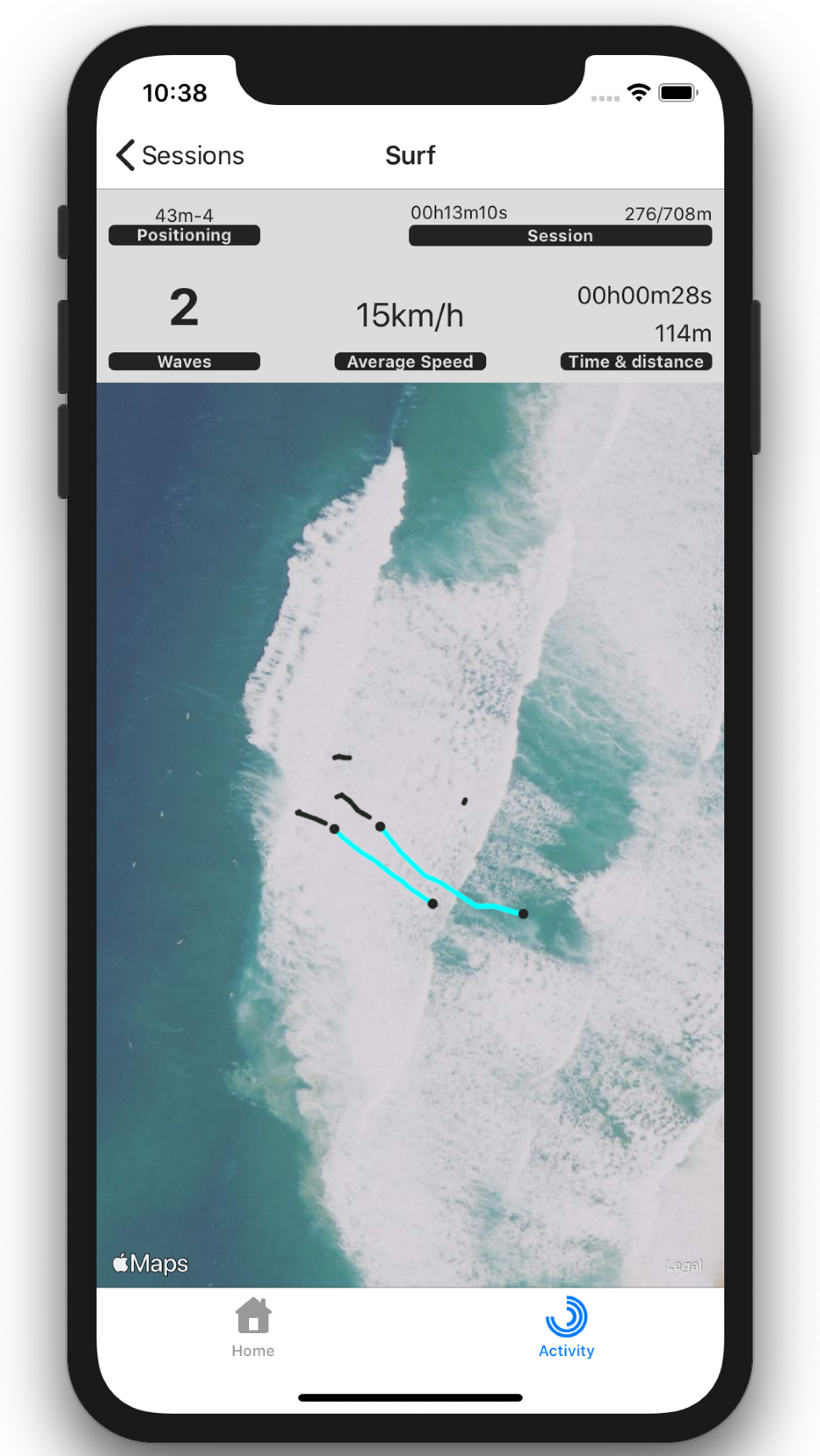 You'll also have the total time and distance of your Surftag Session. The distance paddling and the distance and number of positioning manouvers to line up or to let a wave pass.
How can I get a Skitag IMU device?
We are presently delivering a few prototypes free of charge to the members of our algorithms training program located in Europe. We are still validating some issues regarding water proof and fixing system before delivering for sale.
How do I turn on the Skitag Predictive Carving alerts?
To let Skitag alert you (sound and vibration) about your carving performance while you are skiing you must set your Skitag predictive alerts.
iOS: Go to Skitag Preferences

screen and choose which alert you want to experience: Optimal, Above and/or Below.
Android: Go to settings menu

. Choose Skitag Preferences and choose which alert you want to experience: Optimal, Above and/or Below.
You must have a Skitag IMU device

to experience this alerts.
What does the skitag device has in it?
It has an Invensense MPU9250 IMU (inertial measurement unit) sensor that captures your movements in 9 axis: 3 accelerometer axis; 3 gyroscope axis and 3 magnetometer axis. It has a Texas Instrument CC2640R2 microchip with Bluetooth Low Energy (BLE) connectivity.
Is it battery-powered?
Yes, you'll need a CR2032 battery to power on this version of the skitag device. However, we are planning to introduce a rechargeable battery in the skitag device version 2.0.
The red light is not turning on or the skitag device is not paired with my smartphone
Checklist: Is your battery correctly placed, i.e. positive face looking upside? Is it charged? Is your smartphone bluetooth visible?
Sometimes it takes more than one try to get the Skitag IMU device

connected with your smartphone.
I want to know more about the Skitag experience before getting a Skitag IMU device
Of course! It sounds logical. Please visit our Skitag 2017/2018 web site and navigate through the demos included. We'll be adding new demos and additional charts as soon as our trainers provides us with more skitag data.
I still have more questions regarding Skitag App or Skitag IMU device. How can I get additional support?
Please contact our labs in situalab (labs@situalab.com) or contact Skitag data center (skitagdata@skitag.eu). Our customer support team located in Pamplona (Spain) will answer your question as soon as possible.